15 biggest disappointments of NFL Week 15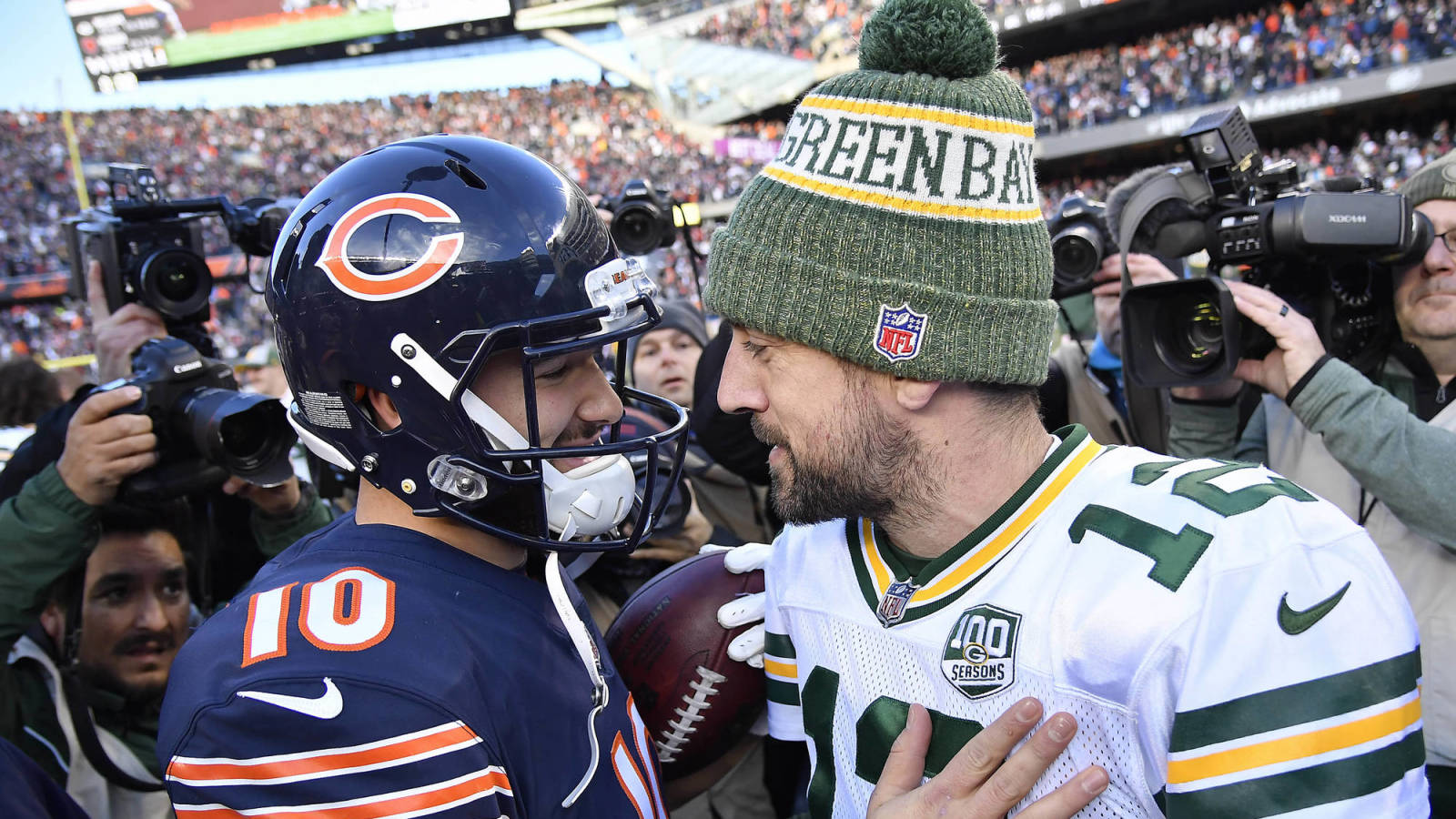 NFL Week 15 was full of surprises, to say the least. Several likely playoff teams lost, including a pair of pretty big upsets, with one of those teams shut out on the road. There were other teams on the playoff bubble that showed up big time, while others suffered crucial losses from which they might not be able to recover. It wasn't a good week for a handful of big-name quarterbacks, either.
Here are the 15 biggest disappointments of NFL Week 15.
Aaron Rodgers, QB, Packers
Rodgers has been keen to leave the door open on another remarkable late-season surge akin to the one he led in 2016, but Sunday's performance demonstrated just how unrealistic that aim always was. He didn't look like himself against the Chicago Bears, failing to find the end zone in 42 attempts and throwing his first pick after 402 interception-less passes. He missed open throws and had some bad luck with drops, but he wasn't good enough, nor was his team. He later said he was bothered by a groin injury. The Packers are out of playoff contention, and nobody should be surprised.
New England Patriots' offense
The Pittsburgh Steelers revived themselves on Sunday, rendering the New England offense frustrated and mistake-prone. The Patriots were hit with a glut of pre-snap penalties and really struggled in the short game, with Tom Brady's best throws coming downfield. In general, Brady and the Pats struggled. His receiving options did not look up to par, and he threw a very bad interception in the red zone late in the game. This did not look like a Super Bowl-worthy offense, and that's a problem this late in the year.
Jared Goff, QB, Rams
For the third straight game, Jared Goff did not look very good for the Rams. His accuracy was off, he missed an easy touchdown throw and he looked nothing like the quarterback who made things look so easy earlier in the year. Though Goff's completion percentage was strong (65 percent) and he cracked 300 yards, he had two interceptions, including an ugly one that led directly to an Eagles touchdown. The Rams failed to crack 30 points for just the fourth time all season, and now their second game in a row. Goff seems to be hurting without Cooper Kupp, who suffered a season-ending injury in Week 10.
Dallas Cowboys
Being shut out on the road by the Indianapolis Colts is a pretty good way to halt a lot of the momentum that the Cowboys had built up over the past five weeks. Worryingly, pretty much everyone on Dallas' offense was awful, including Dak Prescott, who didn't get his run game moving at all. The Cowboys still struggle, particularly on the road, and that's a concern even if they're still in the driver's seat in the NFC East. This was a wake-up call, as Dak Prescott said.
Leonard Fournette, RB, Jaguars
Something strange happened with Fournette on Sunday and it's not clear what. He got a good amount of first-half usage, but he wasn't exceptionally effective. Then at halftime he disappeared. He had one carry early in the fourth quarter for 25 yards, but sat out the third and the rest of the fourth with no apparent injury. It's been a difficult season for Fournette, and if he's in the doghouse with the coaching staff, that's a pretty awful way to end it.
Seattle Seahawks
A week after one of their better wins of the season, the Seahawks turned in one of their worst performances, losing to a San Francisco 49ers team long out of playoff contention. Seattle went ahead 6-0 in the first quarter but never led after the 49ers scored their first touchdown, keeping it close or tied but never retaking the lead. The Seahawks couldn't rattle Nick Mullens, who was efficient and steady throughout the game, keeping pace with Russell Wilson. Seattle still looks good for the playoffs, but this was a concerning performance.
Amari Cooper, WR, Cowboys
It was bound to happen eventually, but Cooper finally turned in a flat performance for the Cowboys. He got six targets and caught four of them, but had only 32 yards. The entire Dallas offense struggled, but Cooper just couldn't get loose at all and Prescott struggled to find him. In terms of pure receiving yardage, it was Cooper's worst performance as a Dallas Cowboy. He'll be eager to put it behind him as quickly as possible.
Ryan Tannehill, QB, Dolphins
Tannehill completed 11 passes on Sunday and was sacked nine times while playing on a bad ankle, which sums up how his day went. As the Minnesota defense constantly tormented him, he finished with only 108 yards passing, and he lost 71 yards on sacks. In essence, Tannehill's passing day only narrowly ended up on the positive side. Tannehill might have been trying to play through his ankle injury, but he did not make the Dolphins competitive against a fired-up opponent.
Jacksonville Jaguars
The Jaguars aren't good in 2018, and we knew that. Still, they were facing a fourth-string quarterback and a team that looked like it had the life beaten out of it last week against the New York Giants. The Jaguars found a way to lose anyway, giving up two fourth-quarter scoring drives to Josh Johnson to blow the lead and lose. Jacksonville is 1-9 in its last 10, Cody Kessler isn't a starting-caliber quarterback and this team is an unmitigated disaster.
Jameis Winston, QB, Buccaneers
Winston continues to turn in uneven performances as he fights for his future in Tampa. On Sunday, it was an ugly 13-for-25 day against the talented Baltimore defense, with the Florida State product throwing for only 157 yards. His lone interception came immediately after the Ravens hit a field goal to increase their lead to eight points. Yes, Baltimore has tripped up good quarterbacks this season, but Winston looked woefully ineffective, and you have to wonder if this is the best he has to offer against the league's better units.
Saquon Barkley, RB, Giants
The Giants were bad as a whole offensively Sunday, with Eli Manning generally forced to throw the ball more than the Giants probably would have wanted. That limited Barkley's upside, and even when he got the ball, he didn't really produce. The Titans held Barkley to 31 yards on 14 carries, and he wasn't significantly more effective in the passing game either, catching only four of his 10 targets for 25 yards. It breaks a string of four consecutive 100-yard rushing games for Barkley, who's entitled to a bad week now and then.
Detroit Lions' special teams
When you lose by one and there's a missed extra point involved, it's always going to be a bitter pill to swallow. A bad snap cost the Lions an extra point after their first touchdown, and then Matt Prater missed a 48-yard field goal in the fourth quarter that essentially cost the Lions the game. The extra point would have ensured a 14-14 tie, and had Prater made his field-goal attempt, the Lions would have led. The margins were fine, but Detroit's special teams essentially cost the Lions the game.
Josh Rosen, QB, Cardinals
It was another miserable day for the Arizona offense, and it doesn't look like the environment is doing anything to help Rosen develop. He went just 13-for-22 with 132 yards and three turnovers, took six sacks and ended up benched for his own good in the fourth quarter against the Atlanta Falcons. Rosen is on his second offensive coordinator of his rookie year and playing behind an offensive line that can't protect him. It's little wonder he's struggling as much as he is.
Vance Joseph, head coach, Broncos
Joseph did not coach like a guy whose team was facing a do-or-die game. His conservative playcalling deep in Cleveland territory in a tight game cost Denver its best chance at a win, and it looked even more timid compared to how aggressive Cleveland was while eliminating Denver. Some of Joseph's decision-making down the stretch has been criticized, but this is the worst of the lot, and the most visible. If he doesn't keep his job, he can probably point to this moment as why.
Kansas City Chiefs' defense
The Los Angeles Chargers went for the jugular on Thursday night after their late touchdown against the Kansas City Chiefs. Ultimately, the Chiefs weren't prepared. Kansas City was unable to stop the Chargers late on a pair of key fourth-quarter drives, including the final touchdown drive. The Chiefs were even more unprepared on the two-point conversion, when both Orlando Scandrick and Kendall Fuller trailed the same receiver, leaving Mike Williams wide open for the go-ahead conversion. That coverage breakdown cannot happen at any point, but especially that one, and it could still cost Kansas City the top overall seed in the AFC.
Original article: https://www.yardbarker.com/nfl/articles/15_biggest_disappointments_of_nfl_week_15/s1_127_28023863