Top potential landing spots for Oklahoma's Kyler Murray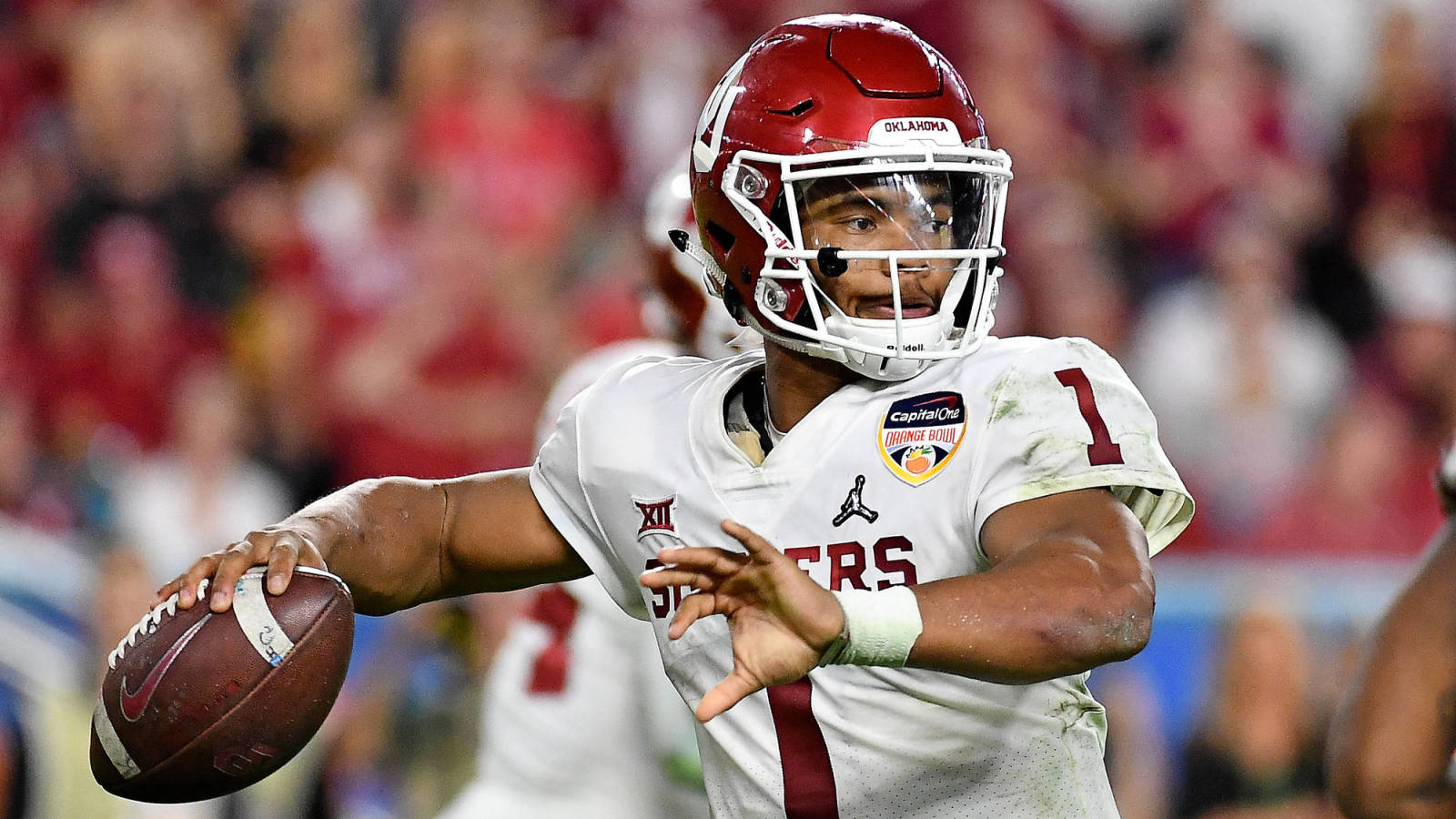 Now that it's been noted that Oklahoma quarterback Kyler Murray will in fact declare for the 2019 NFL Draft, the focus turns to how he might be valued at the annual event in Nashville.
At 5-foot-10 and 190 pounds soaking wet, Murray doesn't fit the bill of a prototypical quarterback. His size could very well act as a deterrent moving forward. Even then, this kid is a special talent.
At least one scout around the NFL has indicated that Murray will be a sure-fire first-round pick come April. He's likely QB2 behind Dwayne Haskins and could go as high as the top 10.
Here's a look at the top potential landing spots for a quarterback that netted 54 total touchdowns en route to winning the Heisman this past season.
New England Patriots
This might come completely out of left field. However, there's a method to our madness here. By virtue of trading Jimmy Garoppolo a year ago this past Halloween, the Patriots don't have a future replacement for GOAT Tom Brady. At 41 years old, Brady has shown signs of slowing down this season. In fact, he put up his worst statistical performance since all the way back in 2013.
Bill Belichick is going to want to add an heir apparent to Brady during the 2019 NFL Draft. That much is almost for certain. It could come later in the draft with the likes of Duke's Daniel Jones or Ryan Finley from North Carolina State. But we would not put it past Belichick to use the 20th overall selection on Murray.
Washington Redskins
Washington's quarterback situation is convoluted after starter Alex Smith suffered a devastating leg injury this past regular season. Complications from the surgery has placed the veteran's career in jeopardy. Even if he were to progress at a rapid clip between now and the draft in April, the Redskins would be smart to look quarterback at some point early.
That's where Murray comes into play. He's not the prototypical drop-back quarterback that head coach Jay Gruden has valued in the past. Though, this is not going to be Gruden's decision to make. Does team president Bruce Allen want to make that splashy move? If so, taking Murray in the first round could very well be in the cards.
Miami Dolphins
Now that the Dolphins have moved on from head coach Adam Gase, we're fully expecting the team to do the same with Ryan Tannehill. Miami can save $13-plus million by releasing Tannehill — something we fully expect to happen after he led the league's third-worst scoring offense this past regular season.
The question now becomes who might hold down the fort in South Beach. Miami will certainly be in the market for a veteran signal caller. In no way does that mean the team isn't going to look quarterback in the draft. Fans in Florida need something to get excited about. It's been too long since these Dolphins ran out an exciting product. Murray would change that in a heartbeat.
Oakland Raiders
Rumors are now persisting that Jon Gruden might make a play for reigning Super Bowl MVP Nick Foles. This comes amid speculation that franchise quarterback Derek Carr might not fit into the team's long-term future. At the very beginning stages of a rebuild, Oakland might look to expedite things by using one of its three first-round picks on a quarterback.
Selecting No. 4 overall, it's highly unlikely that Dwayne Haskins will be available to the Raiders. Unless the team trades up, that makes Murray the most-logical option should Oakland look quarterback. The idea here would be to add a face to the franchise as the Raiders prepare for relocation to Las Vegas.
New York Giants
Just imagine Murray starring in the backfield with record-breaking young running back Saquon Barkley. That would be all sorts of sexy for a Giants team that's bordered on irrelevance with Eli Manning under center. It would jolt the fan base in a big way — lending credence to the idea that these Giants are fully prepared to move forward with a young core.
Selecting in the top 10, the Giants could very well add Murray to the mix without having to trade up. They would then sign a veteran quarterback or retain Eli for one season while Murray learns the nuances of the NFL game.
Original article: https://www.yardbarker.com/nfl/articles/top_potential_landing_spots_for_oklahomas_kyler_murray/s1_12680_28188080